What is the difference between a tuxedo and suit?
When you picture a tuxedo, what comes to mind? A coat with tails, bowties, James Bond? A tuxedo is more formal than a suit, however, the styling of a modern tuxedo is not that different from that of a suit. If you are into tails, you can still find them on a morning coat, Shadbelly or a dress coat. The most significant differences between tuxedo and suit is the use of satin and piping. On a tuxedo you may find satin used on any of the following: the lapel, the pockets, the buttons, and/or a stripe down the pant leg, on a suit you shouldn't find satin or piping anywhere.
Should I wear a tuxedo or a suit on my wedding day?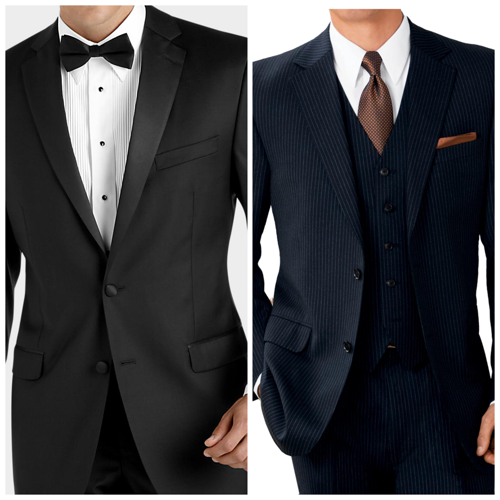 This really depends on you and your fiance, what is your vision for the day? If you are planning a formal church ceremony with an evening reception, a tuxedo may be more appropriate to your theme. If you are having a more casual outdoor ceremony and reception, a suit may be more suitable.
Should I buy or rent?
If you are man who wears suits regularly, it may make sense to purchase and have a suit made-to-measure.
The only way it is worthwhile to purchase a tuxedo is if you plan to wear it again and by that I mean: will you wear a tuxedo at least five times in the next two years?
If the answer is yes, buying is a better option.
Suits and tuxedos are available made-to-measure from most places that rent formalwear. If you plan to order a custom suit or tux you will need to do so at least six months in advance. Please keep in mind fluctuations in weight and be realistic.
If I'm renting, when do I need to have a tuxedo or suit for my groomsmen and myself ordered by?
You should have your wardrobe locked down at least four months in advance of the wedding. When you go for your initial consultation, you may wish to bring along your significant other just to make sure that everything is ordered within the same palette for your groomsmen's accessories to be complimentary to your bridesmaid's dresses.
Should I wear a bowtie or a tie?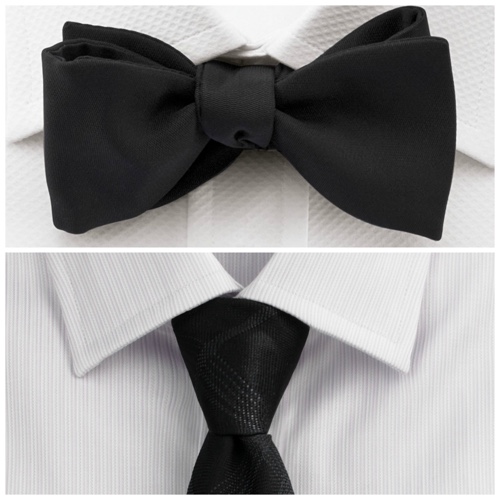 Again this comes back to your theme, what is your vision for the day? For example, I am not a tie guy when dressing for an occasion that requires a suit I'll opt for a pocket-square instead of a tie or bowtie. Be true to yourself and what you're most comfortable in.
If you do opt for a bowtie make sure you know how to tie it, if you don't there is absolutely nothing wrong with opting for one that is pre-tied.
Final Thoughts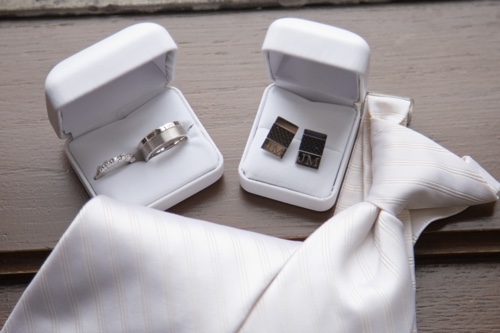 On your wedding day you want to look your very best. When it comes to tuxedos or suits the key to looking your best is having a proper fit. Make sure you have an excellent tailor and if something doesn't feel right, speak up. Also, when you go to pick up your suit or tux, don't just grab it and go, try it on. You won't be able to adjust anything on your own day-of; you are better off in the hands of the professionals.
When it comes to accessories and shoes, stay true to what is a polished version of you. If you are wearing a tux you should be wearing patent leather shoes. In a suit stick with neutral, clean, and comfortable. The focal point should be the new ring on your finger so keep other jewelry at minimum, cufflinks, nice glasses (if you wear glasses) and beautiful watch is more than enough.
Fragrance is your last accessory that nobody sees but everybody will remember. Don't use your wedding day as the day to try out a new bottle of eau de toilet. If you can remember the fragrance you wore on your first date, wear it. Otherwise, stick with what you wear everyday.