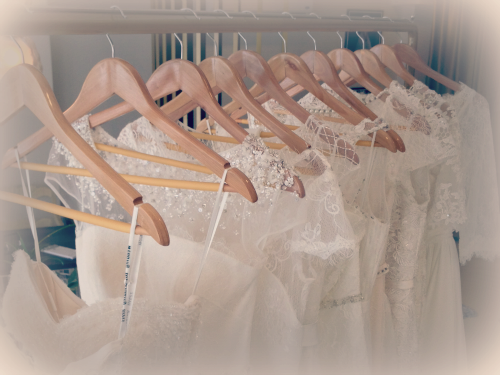 You've spent years dreaming about your wedding dress, hours searching for the perfect gown, and months saving up for it. Now that your wedding day is over, what do you do with your beautiful dress?
This is a question that I cannot answer for you but I will tell you about your options and how I feel about them, like anything, it's your wedding and your dress and the most important thing is that you do what makes you happy.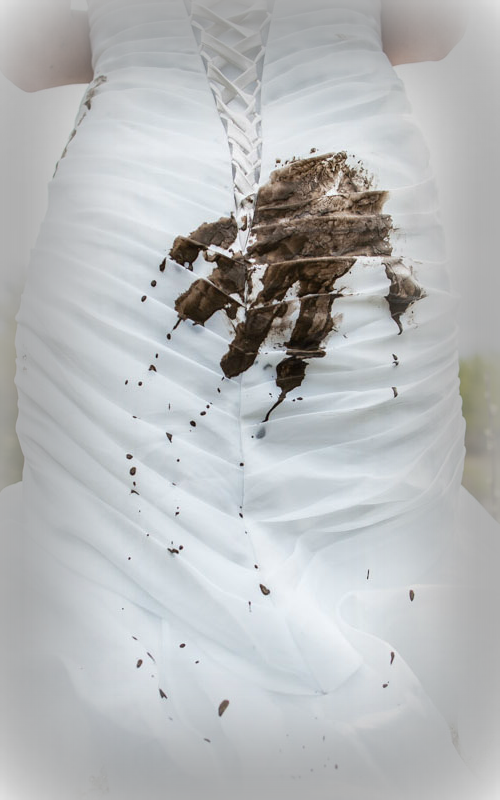 It is currently very trendy to "Trash the Dress," for those of you that don't know, that isn't stuffing it in a big green bag and placing it out on the curb. Trashing your dress means to wear it in the ocean, sand, dirt, mud, etc., to take amazing photos knowing that it will ruin your wedding dress. If this is your vision and you have no attachment to your dress whatsoever this option is for you.
To me, trashing your dress is so very wasteful. We are living in a culture where everything is disposable and really of all the things to trash, one of the most expensive dresses that you've ever worn on one of the most important days of your life shouldn't be it. Think of the designer and their vision and the hours spent drawing, cutting, stitching and embellishing your garment and consider the investment you've made.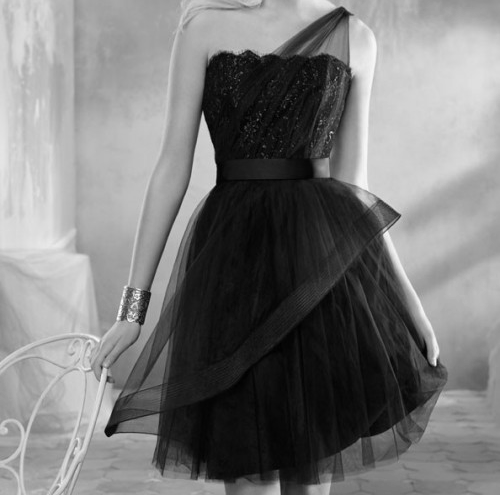 Another option that was popular before "Trash the Dress" became trendy is to have your dress shortened and dyed black transforming it into a cocktail dress to be worn at other formal occasions. This is an excellent way to recycle and many women find joy in knowing that they are wearing what was once such a special garment.
Altering your wedding dress into a little black dress doesn't truly transform it, it will always be your wedding dress and you will never again be the same woman that you were the day that you wore it.
In Edmonton and across Canada there are several stores that will resell your gown on consignment. If you aren't attached to your wedding dress and don't want to store it, this can be an option. If you plan to sell your gown, know that you will only get a fraction of your original investment back. Also, don't wait too long. Most consignment shops take a dress in clean and excellent condition that was produced in the last two years.
If you aren't worried about recouping any of your costs from your wedding dress or holding on to it, there are options in Canada to donate your dress. In Toronto there is The Bride's Project where brides can donate dresses and receive a tax-receipt. The dresses donated to the Bride's Project are sold to brides on smaller budgets and the proceeds from the sale of the dress go to Cancer Research.
In Edmonton, Alberta Angel Dresses accepts donations of wedding dresses, the materials from these dresses are used to make beautiful baby gowns that are donated to hospitals. The gowns are given to grieving families for their babies to wear for final photos or burial.
When imagining your wedding dress as a little girl it probably was the centerpiece of the fantasy. Once you've found the gown that illuminates your inner goddess and carries you through the transition from singlehood to partnership you may wish to store and preserve it. You can look at when reminiscing about your wedding day or share it in your later years at an anniversary party.  
Apart from storage and preservation, if your family doesn't have a tradition and you have children you may wish to pass your dress on to, it may be time to start one. I would never suggest setting the expectation that your daughter would wear your dress but it is nice to have an heirloom on your wedding day. Some of the brides I work with will use the lace from their mother's gown in their veil; others reuse an appliqué or sew a small piece of the vintage dress on the inside of their own. Pieces from a high quality garment will stand the test of time and can be passed from generation to generation.
Like everything about your wedding day, do what best reflects you and your spouse's vision. I encourage you before trashing the dress to at very least consider donation; giving somebody less fortunate than yourself an opportunity to have something that they might not otherwise be able to afford for their special day.