Whisking off to the mountains for a few days away can be magical; now imagine those magnificent Rocky Mountains being the backdrop for your wedding… Spectacular!
A few weeks ago I had the pleasure of exploring the possibilities for a Jasper, Alberta wedding with the Fairmont Jasper Park Lodge. As many of you may already know, when you book a stay at a Fairmont property you will receive a certain level of customer service that exceeds the everyday hotel and the Jasper Park Lodge is no exception.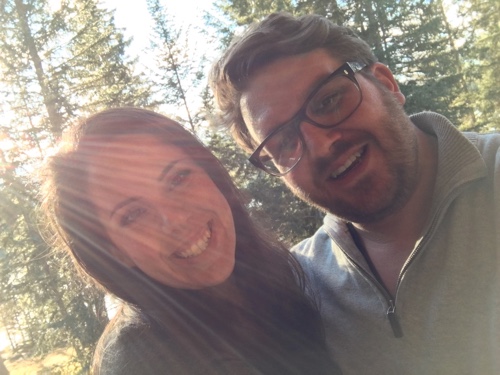 When my assistant, Louise and I checked into our rooms, we were welcomed with a selection of chilled beverages and a hand written welcome note. We also were provided with a sampling of some sweet treats and a small wedding cake. The Fairmont Jasper Park Lodge has an onsite pastry chef available for custom work whether it's a wedding cake or a full dessert bar. Our rooms also had a beautiful arrangement of fresh flowers because the Jasper Park Lodge also has its own florist. The bathroom was also stocked with high quality, personalized toiletries, by that I mean, the products literally had my name on them. This may not be a big deal to some of you, but to me, it is the bespoke details like this that make you feel like a valued guest.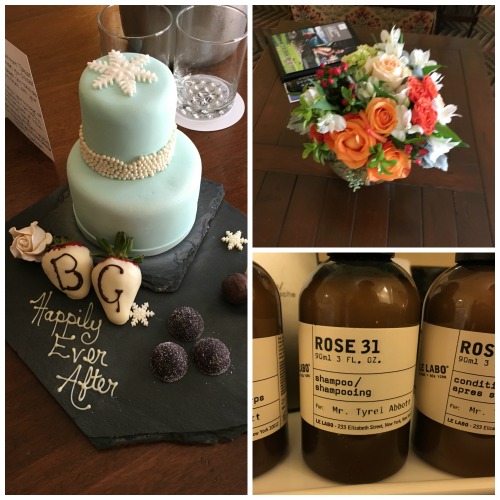 Outdoors, the pristine lake is surrounded by forest and enveloped by the soaring Rocky Mountains. The Jasper Park Lodge property is set just slightly outside of the town of Jasper but with all of the amenities inside and out, there's no need to leave. The Lodge celebrated its 100th birthday in 2015 and the architectural details in each building breathe an unmistakable rustic elegance in wood, metal and stone. Executive Chef, Christopher Chafe runs the kitchen at the Lodge, which offers local organic fare that is completely customizable from a casual barbeque to fine dining. The culinary team at the Jasper Park Lodge also tends to five beehives that sit atop the main building; the sweet organic honey is delicious and used exclusively in their kitchen.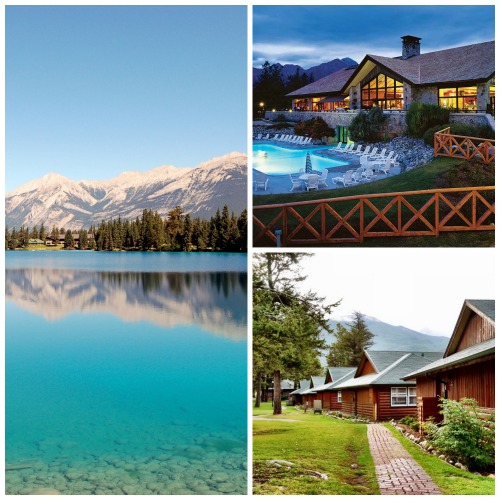 The Spa and Boutique level in main building at the Lodge offers a little bit of shopping, access to their heated outdoor pool which is open year round and their Reflections Spa. Louise and I had the pleasure of testing out the services of the spa and it may come as no surprise, but it didn't disappoint. As a hairstylist working in a field adjacent to the spa industry, I'm not easily impressed but there is no mistaking that this was the best massage I have ever had.
The Jasper Park Lodge has been host to the Royal Family not once, but twice, in their Outlook Cabin. If you are looking for an experience fit for a Queen, imagine a wedding reception in cabin built for just that. In 1939, Queen Elizabeth and Prince George VI stayed in the Outlook Cabin. Sadly, in year 2000 the cabin burnt to the ground. With Fairmont level attention to detail, the Outlook Cabin was rebuilt based on the original architectural drawings and furnished from photographs and in 2005, Her Royal Highness, Queen Elizabeth II and Prince Phillip stayed in the new Outlook Cabin.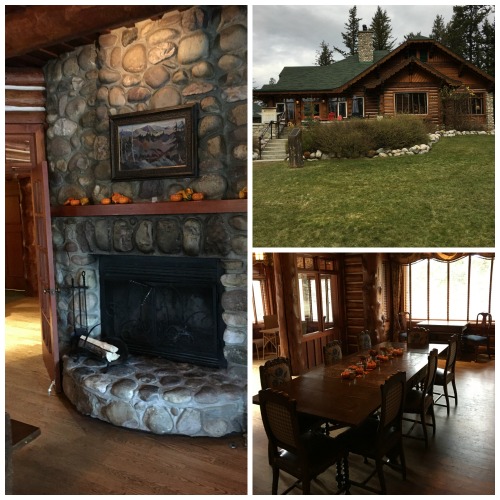 If a Royal wedding isn't what you are looking for the Fairmont Jasper Park Lodge has so many other options. Wedding Sales Manager, Elise Moore has a palpable passion for weddings and a few days spent at the Lodge in her company have left me inspired. If you have dreamt of a wedding set in the mountains or beside a lake, I've never been more prepared to turn your vision into a reality. No matter what the season, the picturesque property, numerous onsite services, luxury amenities and guest services focused on the finer points, presents the opportunity for a fully customizable wedding experience.