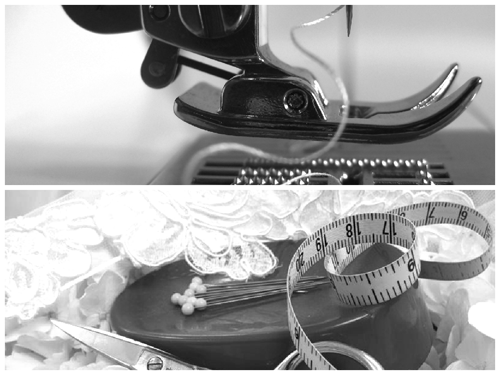 For anybody having a Summer or Fall wedding, at this point the dresses have been ordered and they are on the way or already in. The next major step in the final process is getting the gown to fit and I'm not talking about losing or gaining weight, I'm talking about alterations. A standard gown is made for somebody 5'9 with a B-cup bosom, if you, like most women do not fall into this category your dress needs to change, not you. When all is said and done, your wedding gown should be the best fitting garment you've ever worn.
An expensive, good quality alteration can take a ten-dollar dress and make it look like a thousand-dollar dress. On the other hand, cheap, poor quality, or rushed alterations can take a very expensive dress and make it look cheap. Depending on what changes need to be made to your dress, budget at least $350 for simple changes and $500 plus for more drastic alterations. If the bridal shop has an in-house seamstress, use them. If not, ask for a recommendation. It is very important to take your dress to somebody that understands the complex construction of a wedding dress.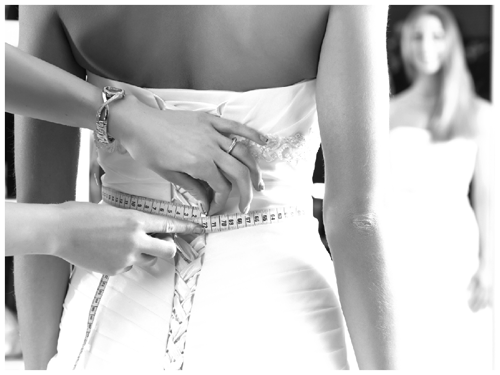 Hopefully, when your dress was ordered, it was done based on your measurements and not your street size, meaning the size ordered will fit the largest of one of three measurements: your bust, your waist or your hips. All of the smaller places will need to be taken in and it is much easier to take a dress in than to let it out.
When the dress has arrived and you've found the seamstress, here are my tips to help you get the perfect fit:
Buy your shoes and foundation garments prior to your first fitting and bring them to every appointment. Foundation garments include, bras, corsets, crinolines, panties, SPANX, etc.
Avoid wearing makeup to your fittings or coming straight from the gym. It is a lot easier and less stressful to not have to worry about getting stains out in the days just before the wedding.
Listen to the seamstress. If he/she is recommending sewing in cups and going without a bra, do it.
Remember you are not a seamstress. If you have made a request and the seamstress is advising against it, remember he/she is the professional that understands garment construction.
Stand still and stand straight. To get the best possible measurements and pins in the proper places, it is imperative that you do as the seamstress asks.
Be honest. When given the okay to move, try sitting, walking and dancing. If you find something doesn't look right or if you feel like your movement is restricted in any way, speak up.
Bring a person with you to your final fitting. Unless your dress zips closed, you will need somebody that knows how to place in a modesty panel, lace up a corset back, or bustle the train. 
Plan. Schedule your final fitting two weeks prior to your wedding day. This allows enough time for any last minute changes if necessary.